---
China Visa FAQs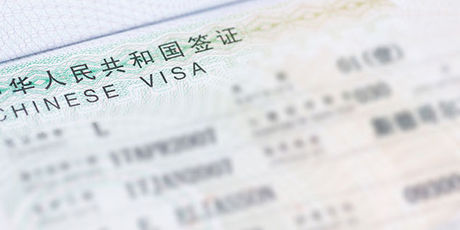 05

Nov 2015
1. What is a Chinese Visa?

A China visa is a permit issued by Chinese visa authorities (Chinese Embassies, Chinese Consulates, Chinese visa offices or Public Security Bureau) to non-Chinese citizens for entry into and transit through China mainland (Hong Kong SAR and Macau SAR have different visa systems). Citizens of most countries are required to obtain Chinese visas before entering China mainland. After the new Chinese Immigration Law and the new Foreigner Entry-Exit Administration Regulations took into effect respectively on July 1, 2013 and Sep. 1, 2013, there are 12 categories of ordinary China visas, which are marked with the letters C (crew visa), D (permanent residence visa), F (for persons engaged in exchanges, visits, inspections), G (transit visa), J (journalist visa), L (tourist visa), M (business visa), Q (Chinese family reunion), R (for high-level talents), S (foreign family visit), X (student visa) and Z (work visa).
J, Q, S, X respectively have two subcategories, e.g. J1, J2, X1, X2.
X1 will be issued to persons for long-term study. X2 will be issued to persons for short-term study. The same is true with J, Q and S visas.
2. Do I need a Chinese visa?

If you want to travel to Mainland China, whether for business or tourism, you are required to have a Chinese visa obtained from a consulate in advance of your trip.
You are exempt from applying for a Chinese visa if you travel and stay only in Hong Kong or Macao for some days.

3. I got the China visa at the embassy in Vietnam. What does this visa mean?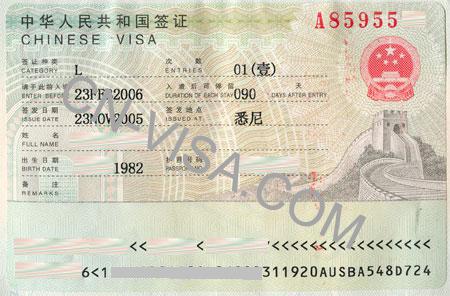 CATEGORY: L (tourist visa or visiting relatives) – there are other types, such as X (student visa), Z (work visa)
ENTRIES: 01 – there are other types, such as 02, M (multiple) and 00.
DURATION OF EACH STAY: 090 – there are other types, such as 030, 060, 120, 180.
ENTER BEFORE: 23FEB2006 and ISSUE DATE: 23NOV2005: 3-month visa
If you enter into China mainland before Feb. 23, 2006, you can use this visa. The 90 days of duration of stay is calculated right when you enter into China mainland through customs. Suppose you enter on Jan. 3, 2006, the visa is valid until April 2, 2006.
And if you want to go to Hong Kong and return to China mainland on Feb. 12, 2006, you cannot use this visa though it is still ENTER BEFORE Feb. 23, 2006. The only 1 entry has been used up the first time you enter. If it were a 02-entry visa, you would use it again.
4. With an F visa, what can I do in China?

F visa is issued to applicants who are invited to China for research, lecture, scientific-technological and culture exchanges.
Before you can do business with an F visa. After Sep. 1, 2013, if you want to do business, please apply for an M visa.
5. I am going to mainland China, then to Hong Kong and back to mainland China. Does this mean I must have a double-entry visa?

Yes. Although Hong Kong SAR and Macau SAR are part of China, they have different visa systems from China mainland. Each time you enter into China mainland, one entry will be used up.
6. If I want to stay longer in China, can I have my visa done without leaving China mainland?
Yes.
If you are holding an L visa, technically you can have it extended for another 30 days.
If you find a job, Beijing LEEO can help you with the work visa application.
The visas issued when you are already in China mainland have NO limitation of each stay. It means if you wish, you can stay as long as your visa duration without leaving. The entry (ies) is for your expected or unexpected travel. You don't have to leave.
7. If I want to do business in China, can you help me?
Yes. We can provide you an official M visa invitation letter. With it, you can apply in your country for 3-month M visa. If you previously had business visas, we can even help you get 6-month, 1-year M visa invitation letters.
8. I have a double/multi-entry Visa, but have 60 days limit for each stay. How can I stay longer?
Double or multiple entry visas (either an L, F or M) issued by overseas Chinese Embassies, Consulates, visa offices usually have limitations of each stay. How can I stay longer without leaving?
You can apply for an extension of stay at Public Security Bureau. Your previous L, F or M will NOT be cancelled. The extension of the visa stay period by PSB is only effective for this entry into China. It does not affect the number of authorized entries or duration of each stay. Extension of the visa stay period will not exceed the stay period granted on visa.
It is a big improvement as before Sep. 1, 2013 when you extended your visa, your current visa would be cancelled at the same time, whatever how many entries left.
9. How can I get the "Registration Form of Temporary Residence", which is required to do visa extension or conversion?
Foreigners are required to register in the local police station within 24 hours of arrival. When you get a new visa or move to a new place, you need to redo it.
If you are staying at a hotel or hostel, the staff there will automatically do it for you. If you ask, they will give you the form. Please make sure they stamp it with the hotel or hostel' seal.
If you are renting an apartment or staying with your friends, you need to go to the local police station yourself. Normally, you are required to take the following documents:
* Apartment rental contract
* Passport
* For the first time registration, you'd better ask your landlord to come with you. Or at least take one copy of the landlord's ID.
10. There is some company that intends to employ me. Can I avoid the Hong Kong visa run to get a Z visa? Or can I outsource the application to you to make it more efficient and quicker?
Yes, you can. Please find the documents required to do the whole China work visa application(including work license, invitation letter, Z visa, Alien Employment Permit and Residence Permit for work application).
11. How and where to do the health check for the China work visa application?
There is only one place in Beijing that alien employees can get the health check reports for the China work visa application.