SWITZERLAND BUSINESS VISA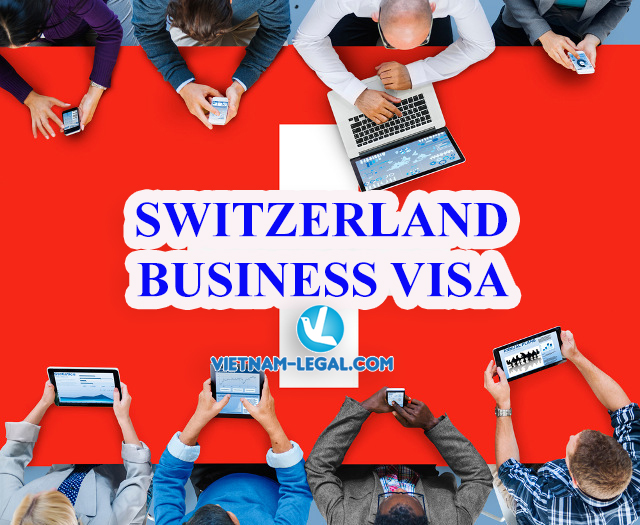 Documents to apply for Switzerland Business Visa:
1. Documents required from Inviter in Switzerland:
* Business Letter
Please provide a business letter, which includes:
–  Name of the invited person(s), company/employer's name and position of invited person(s)
– Purpose, place and duration of stay in Switzerland
– Documentation on the program of seminar, conference, training, etc. (if any)
– Guarantee that all expenses in relation to the applicant's stay in Switzerland will be covered
– Company's responsibility for the departure from Switzerland of the applicant in accordance with the terms stated in the visa.
–   The letter must specify the visa validity and number of entries, the applicant is asking for.
+ In case, applicants are sponsored, the inviter must submit:
–   Passport/ residence certificate in Switzerland (Notarized copies)
–   Proofs for relation between two companies.
2. Documents required from Applicants:
– Schengen application form, original
–  Original passport must be valid at least 3 months.
– Two passport-size photos taken within the past six months
– Vietnamese residence permit (original, copy).
– Confirmation of employment, original.
– Labour contract, copy.
– Last three salary slips (original, copy).
– Business operation register, copy.
– Original bank account statements (company or individual) on the turnover during the last three months.
– Other documents which show the existence of trade or/and work relations, copy.
– Entry tickets for fairs and congresses, copy (if applicable).
– Reservation of return airplane ticket (please do not purchase the ticket before obtaining the visa), copy.
– Travel Medical Insurance (original, copy).
– Consent form, original.
– Power or attorney, original.
– If business official you need more: Verbal note, original and Decision issued by the delegating institution, original.
With Switzerland business Visa, please feel free to contact Vietnam-legal.com for:
+ Consulting all visa requirements, condition, the duration of visa
+ Collecting and assessing all documents to apply
+ Performing all application form, administrative procedures on behalf of client
+ Supporting notarization and translation
+ Representing client to submit documents to competent authority
+ Following and informing the result to client
+ Representing client to get visa at Embassy/Consulate.