VISA TO CHAD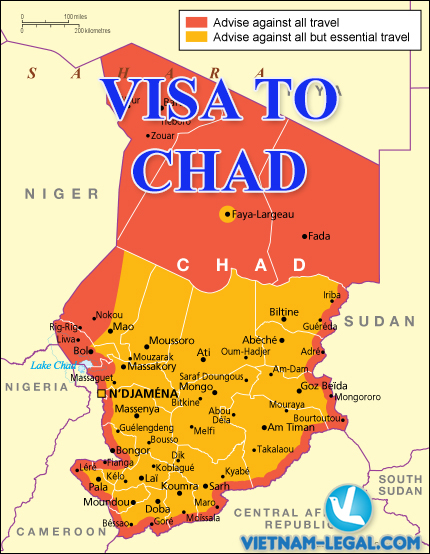 VISA APPLICATION REQUIREMENTS:
1. Passport requirements:
– Original, signed passport valid for 6 months beyond stay, with at least two blank passport pages available for visa stamp(s). Amendment pages in the back of the passport are not suitable for visa stamps.
2. Chad Visa Application Form:
One signed Chad visa application form. After placing your order, fill out the application form included in your Visa Application Kit.
 3. Photo Requirements:
One recent 2 x 2 passport type photograph in color, front view and with a plain/white background.
OR – you can upload a photo when you place your order, instead of providing physical passport photos.
4. Other Forms:
An original letter of employment, certifying that the applicant is an employee of the company and in good standing, is required. The letter must indicate the dates for which leave was approved and the intended date of return to the company.
 5. Letter Of Invitation:
A letter of invitation from the host company or sponsor in Chad explaining the relationship to the applicant and the purpose of travel to Chad. In addition, the letter must indicate the length of stay, place of stay, and host's name and contact information.
6. Proof of Travel Arrangements:
Computer generated flight itinerary from the airline or travel agency or copy of airline tickets.
 7. Medical Requirements:
International certificate of vaccination against yellow fever.
With Chad Visa, please feel free to contact Vietnam-legal.com for:
+ Consulting all visa requirements, condition, the duration of visa
+ Collecting and assessing all documents to apply
+ Performing all application form, administrative procedures on behalf of client
+ Supporting notarization and translation
+ Representing client to submit documents to competent authority
+ Following and informing the result to client
+ Representing client to get visa at Embassy/Consulate.