Burundi Tourist Visa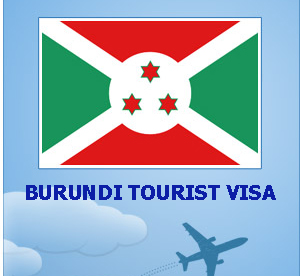 Documents required for Burundian Tourist Visa:
+ Burundian Visa Application Form
+ Passport should be valid at least SIX (6) months after your intended arrival to Burundi. Also, you should make sure you have at least ONE completely blank page for visas in your passport.
+ THREE Passport-Style Photographs
They must be (4 months or less old) 2×2 inches in size. Photos must be high resolution, clear, and provide proper contrast and white background for it to be accepted by the consulate.
+ A Copy of Yellow Fever Vaccination
You are required to submit copy/original certificate of Yellow Fever vaccination.
+ A Copy of Roundtrip ticket/itinerary
It must contain the name of passenger. It can be an electronic ticket.
+ Proof of Hotel Reservation(s)
You must provide a copy of your hotel reservations confirming your stay in Burundi. If you are going to visit friends or family, you have to provide a letter from your Host stating their name(s) and address (es) in Burundi.
Additional Burundi visa information:
VISA VALIDITY: Usually, business or tourist visa is valid up to three (3) months from the issue date. However, you can stay only up to 30 or 60 days at a time in Burundi. If you need to stay longer, you can renew visa while you are in Burundi. Please contact local immigration authorities.
To apply for  Visa to Burundi in Vietnam, please feel free to contact Vietnam-legal.com for:
+ Consulting all visa requirements, condition, the duration of visa
+ Collecting and assessing all documents to apply
+ Performing all application form, administrative procedures on behalf of client
+ Supporting notarization and translation
+ Representing client to submit documents to competent authority
+ Following and informing the result to client
+ Representing client to get visa at Embassy/Consulate.
GLOBAL CONSULTING SERVICES COMPANY
Address: 2th Floor, no 95 Cau Giay street, Cau Giay district, Hanoi, Vietnam
Tel: (+84) 4 35626100
Hotline: (+84) 988297732
Email: [email protected]
Website: Vietnam-legal.com